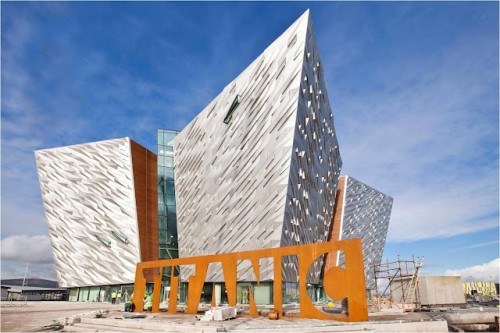 Almost 80,000 tickets have been snapped up to tour the world's largest Titanic attraction when it opens in two weeks.
Operators of the £90 million Titanic Belfast, which has been built in the derelict shipyard where the ill-fated liner was constructed a century earlier, say they are delighted with the interest the centre has generated.
They have also revealed that their banqueting suite, which is themed on the White Star Line's first class dining facilities, has already had almost 200 bookings, representing £1 million of business.
After three years in construction - the same time it took to complete the Titanic - the eye-catching building, already an icon on the Belfast skyline, is on course to open on schedule, ahead of April's centenary of the sinking.
As workers add the finishing touches to the six-storey venue, which at 90 feet is the same height as the Titanic's bow, the owners have given a sneak preview of what waits in store for visitors on opening day on March 31.
The centre, which hopes to attract 425,000 visitors in its first year, tells the story of the Titanic through nine separate galleries, each devoted to a different aspect of the tragedy.